Traxxas Unlimited Desert Racer 4WD TQi TSM utan batt & laddare RTR
Ny tuff modell från Traxxas inklusive blåtandsmodul!
Traxxas Unlimited Desert Racer 4WD TQi TSM utan batt & laddare RTR
Ny tuff modell från Traxxas inklusive blåtandsmodul!
Blåtandsmodul ingår!
TRAXXAS UNLIMITED DESERT RACER (UDR)
PRO-SCALE™ PERFORMANCE Pro-Scale is a new Traxxas innovation that captures true-scale realism and combines it with extreme 6s LiPo power and 80+ kph performance. The Traxxas Unlimited Desert Racer faithfully captures the look and feel of Trophy Trucks and Unlimited Trick Trucks as they charge hard across the desert at full speed.
DRIVING REALISM The Traxxas Unlimited Desert Racer is engineered on an authentic, true to scale 4-wheel drive desert race truck chassis. The 4-link solid rear axle design provides huge suspension travel with authentic driving dynamics. From the cantilever sway bars to the 8 GTR shocks, Traxxas has accurately reproduced a true unlimited desert race chassis in both form and function.
6S EXTREME POWER The 80+ kph Unlimited Desert Racer delivers its pro-level performance with brutal 6s power. The VXL-6s ESC combines massive power handling with high-tech telemetry features. An ultra-tough drivetrain harnesses the extreme power to make it easy to control and fun to drive.
Truck specifications:
Length: 694 mm
Front Track: 345 mm
Rear Track: 345 mm
Ground Clearance: 58 mm
Weight: 6.1 kg
Height: 261 mm
Wheelbase: 420 mm
Front Shock Length: 134 mm
Front Threaded Shock Length: 134 mm
Rear Shock Length: 160 mm
Rear Threaded Shock Length: 139 mm
Tires (pre-glued): 134 x 57 mm BFGoodrich® KR3 replicas
Wheels: dual diameter 40 x 56/81 mm
Speed Control: Velineon® VXL-6s
Motor (electric): 2200kV
Transmission: Direct-drive with Torque-Biasing Center Drive
Overall Drive Ratio: 17.89:1
Front Differential Type: Sealed, 4-gear
Rear Differential Type: Locked spool
Center Differential Type: Sealed, 4-gear (1M weight oil)
Chassis Structure / Material: Inverted composite tub
Brake Type: Electronic
Drive System: Shaft driven 4WD
Steering: Dual bellcranks with ball bearings
Radio System: TQi™ 2-channel transmitter with 6533 TSM receiver
Servo: 2075X Metal Gear
Top Speed (stock gearing): 4s LiPo – 48+ kph, 6s LiPo – 80+ kph
Skill Level: 5
Battery Compartment: 181 x 46 x 56 mm
Motor specifications:
Type: Sensorless brushless
Weight: 406 g
Length: 76 mm
Diameter: 42 mm
Connector Type: Traxxas 6.5 mm bullet connectors
ESC Specifications:
Input Voltage (cells): 4s–6s LiPo (max: 25.2 volts)
Case Size: 58 x 48 x 29 mm
Weight: 121 g
On-Resistance (@Trans) - Fwd/Rev: 0.0003 Ohms per phase
Reverse Delay: Yes, with lockout
Low Voltage Detection (LVD): Yes, programmable
What's In The Box:
Unlimited Desert Racer with VXL-6s ESC and 2200kV motor
Quick Start Guide
TQi™ 2.4GHz radio system
High quality maintenance tools
What You'll Need:
Batteries
Unlimited Desert Racer accepts a single 4s LiPo battery or dual 2s LiPo batteries or dual 3s LiPo batteries
Charger
Traxxas EZ-Peak Live charger (2971) is recommended for easy and fast charging performance
Four AA alkaline batteries for the transmitter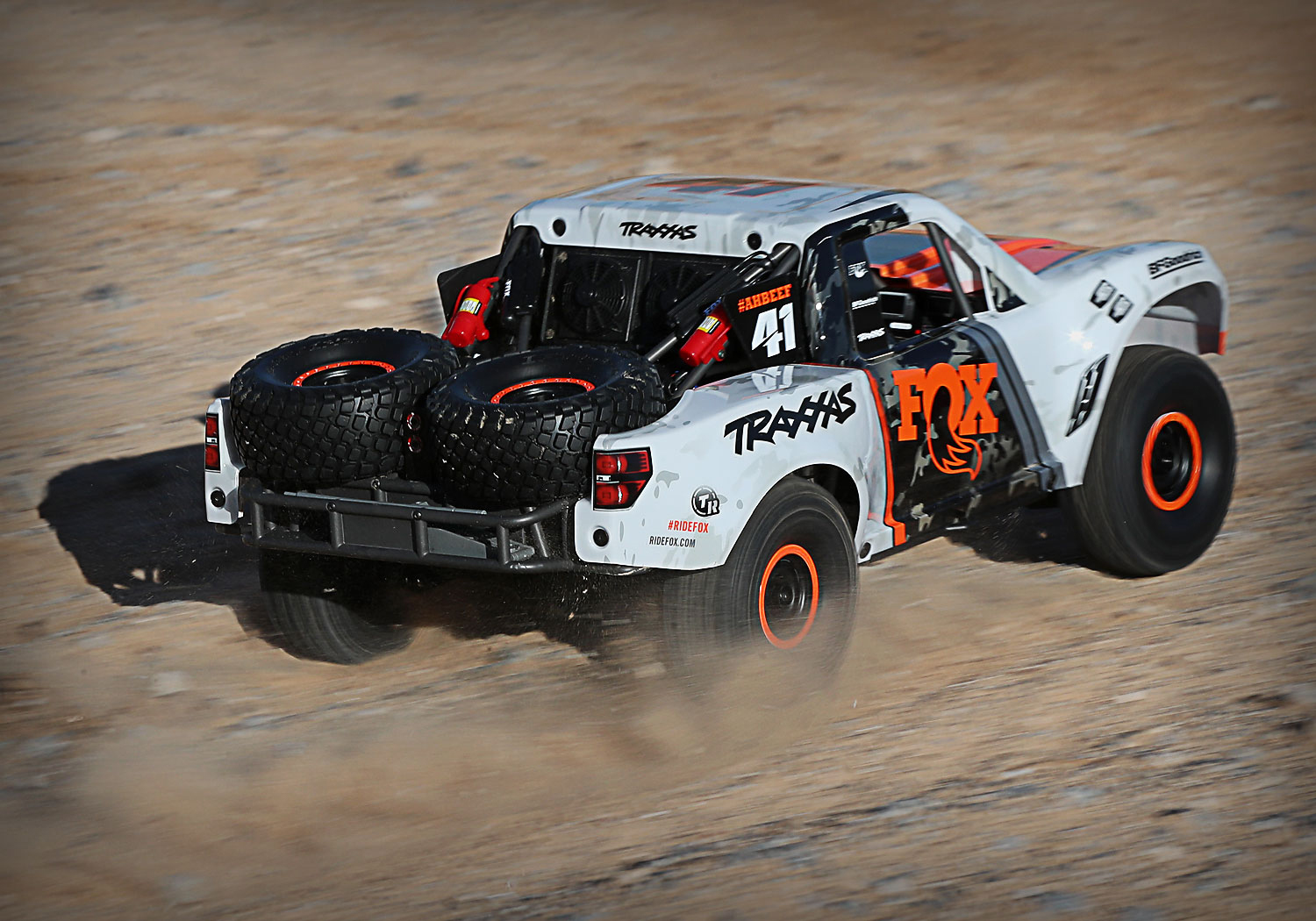 Features list:
Reinforced bumpers to absorb impacts
ESC battery plugs hard mounted to chassis
Innovative Battery Compartment
Accommodates single 4-cell LiPo or dual 2-cell or 3-cell LiPo batteries
Opens from underneath without removing body
Fixed oversized battery strap locks batteries securely into place
Separate skid plate to protect batteries
Suspension
Provides scale looks and authentic off-road driving dynamics
Tough independent double-wishbone front suspension with captured rod ends
Triangulated 4-link rear suspension with solid rear axle (patent pending)
Tough composite trailing arms
Steel upper links with 3 optional positions for suspension tuning
Eight long-travel aluminum GTR shocks; four with springs and adjustable ride height collars
Realistic and functional front and rear sway bars
Detailed functional limit straps on rear axle
Steering
Chassis mounted #2075X metal-gear servo
Dual bellcrank design with bearings and integrated servo saver
Solid non-adjustable steering links for rugged durability
Drivetrain
Steel CVDs (front) with 6mm stub axles
Steel straight axle (rear)
Oil-filled limited slip front differential
Locked steel spool (rear)
Heavy-duty splined front driveshaft
Fixed-length steel rear driveshaft
Transmission
All-steel gear direct drive transmission
Torque-Biasing Center Drive™
Removes as a single piece for easy maintenance
Fixed-pin gear mesh system
Wheels and Tires
Replica BFGoodrich® KR3 off-road tires
Beadlock-style 17mm dual-diameter wheels
Sealed Ball Bearings
Hex Hardware with Rust-Resistant Black Oxide Coating
VXL-6s™ Waterproof Electronic Speed Control
6s LiPo compatible
Integrated cooling fan
Real-time telemetry via Traxxas Link
Machined heat sink
3-LED status indicators
Powered accessory ports
10-gauge silicone wire
Velineon® 2200kV Brushless Motor
4-pole 2200kV brushless motor
5mm output shaft
Finned can for better heat dissipation
Up to 80+ kph with Two 3s LiPo Batteries
Traxxas Stability Management® (TSM)
Improves straight line acceleration and braking on low-traction surfaces
Maintains steering composure to allow throttle-on powerslides
Never dulls throttle or slows the truck
Adjusts from off to 100% assistance from the transmitter
TQi™ 2.4GHz High Output Radio System
TQi 2-channel transmitter
Automatically stores and loads settings for up to 30 Traxxas Link enabled models
Adjustable steering and throttle sensitivity (exponential)
Adjustable steering and throttle end points
High 13ms frame rate and near-zero latency for responsive control
5-channel micro receiver (#6533) with fail-safe security
Patented waterproof receiver box with easy-access plug
Large Pro-Scale™ Body with Highly Detailed Replica Parts
Heavy-duty truck body mounts to chassis in multiple locations
Strong and functional tube frame mimics full-size off-road racers
Detailed interior cabin with driver figures
Replica brake calipers and discs with integrated 17mm wheel hubs
Two fully-functional spare tires and functional spare driveshaft
Highly detailed replica parts: fire extinguishers, shock reservoirs, jack, and tools
Realistic side plates mount to tube frame
Chassis
Composite inverted tub design
Makes maintenance easier
Lowers center of gravity (CG) for improved handling
Allows easy access to components
Tough skid plates protect critical components
Fully integrated tube frame for scale appearance and added rigidity
| | |
| --- | --- |
| Biltyp: | Short Course |
| Driftsätt: | EL |
| Drivning: | 4WD |
| Lämplig för: | Expert, Erfaren |
| Skala: | 1/7 |
| Längd: | 694 mm |
| Bredd: | 345 mm |
| Höjd: | 261 mm |
| Markfrigång: | 58 mm |
| Vikt: | 6100 g |
| Fartreglage: | Traxxas Velineon VXL-6s |
| Sändare: | Traxxas TQi 2,4GHz |
| Toppfart: | 50km/h med 4S Li-Po (Ingår ej), 80km/h med 2x3S Li-Po (Ingår ej) |
| Motor: | Traxxas Velineon 2200kV |
| Motortyp: | Borstlös |
| Batteri: | Ingår ej |
| Laddare: | Ingår ej |
| Inkluderar även: | Verktyg |
| Behöver kompletteras med: | 4st AA batterier till sändaren, Laddare, 2st 3S Li-Po batterier, 4S Li-Po batteri |
Lägg till en bevakning så meddelar vi dig så snart varan är i lager igen.